2014 Cultural celebrations at St Paul's College
21 Nov 2014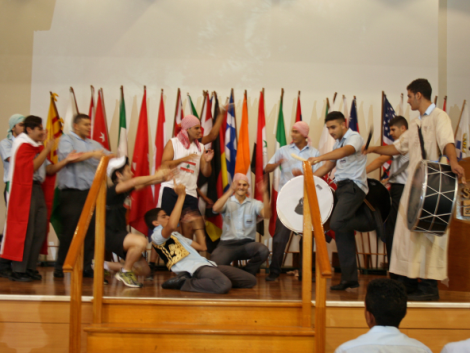 Lebanese students performed a traditional dance
Students at St Paul's College, Greystanes celebrated the Feast Day of Christ the King with a day of cultural celebrations on Friday 20 November
Principal David Bourne encouraged everyone to join in the celebration of uniting as one and recognising the many varied cultures that are represented in the school community. Students bearing the flags of the different countries represented at St Paul's College processed into the hall at the start of the liturgy. Prayers were spoken in both English and a few of the different languages spoken by students. Many students wore shirts, flags, hats or the traditional dress of their culture making for a colourful celebration.
Following the liturgy, students took to the stage for a moving performance of 'I Am Australian' and a traditional Lebanese drumming and dance performance. Representatives from Jarara joined students for an Indigenous blessing, music and dance performance with some of the teachers joining in for a traditional hunting dance.
Later in the day, the students held a cultural food fair to raise money for the Diocesan Works Fund, which supports more than 20 local ministries and organisations.
Principal David Bourne said the aim of the celebration is to foster a sense of pride in every culture represented at St Pauls Catholic College. 'It is a fantastic opportunity to celebrate our culturally diverse community in a positive way,' said David.