2014 St Paul's Catholic College student honoured
07 Oct 2014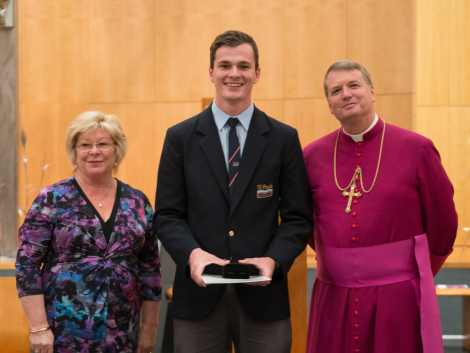 Zach Fortini with Sue Walsh and Bishop Anthony Fisher OP


Zach Fortini from St Paul's Catholic College, Greystanes recently received the annual Bishop of Parramatta Award for Student Excellence, which recognise the religious and academic achievement of senior secondary students across the Diocese of Parramatta
Zach is an exceptional young man. Since beginning his time at St Pauls, Zach has been an active member of the College liturgical community. He is involved in all aspects of the College prayer life, is a regular attendee at morning prayer group and the Coffee with Catholics gathering.

Within his own parish, Zach is a Eucharistic Minister. He is also part of the counting group. Zach attended World Youth Day in 2013 and was a senior representative of the College at the Australian Catholic Youth Festival.

Zach is a member of the College student leadership team and is a fine example of a St Pauls man. He is a worthy recipient of the Bishop of Parramatta Award.